If you have had an incident with your dog being:
STOLEN – SHOT – DETAINED – TRACKING COLLAR REMOVED – PICKED UP & HAULED OFF – INTERFERENCE with LEGAL HUNTING – FALSE REPORT
Please use Sportsman's Incident Report to make a claim: Download here
We do not tolerate the abandonment of a hunting dog in Virginia, and offer a $1000 award for information leading to the arrest and conviction of anyone who does so!

You can download the poster here.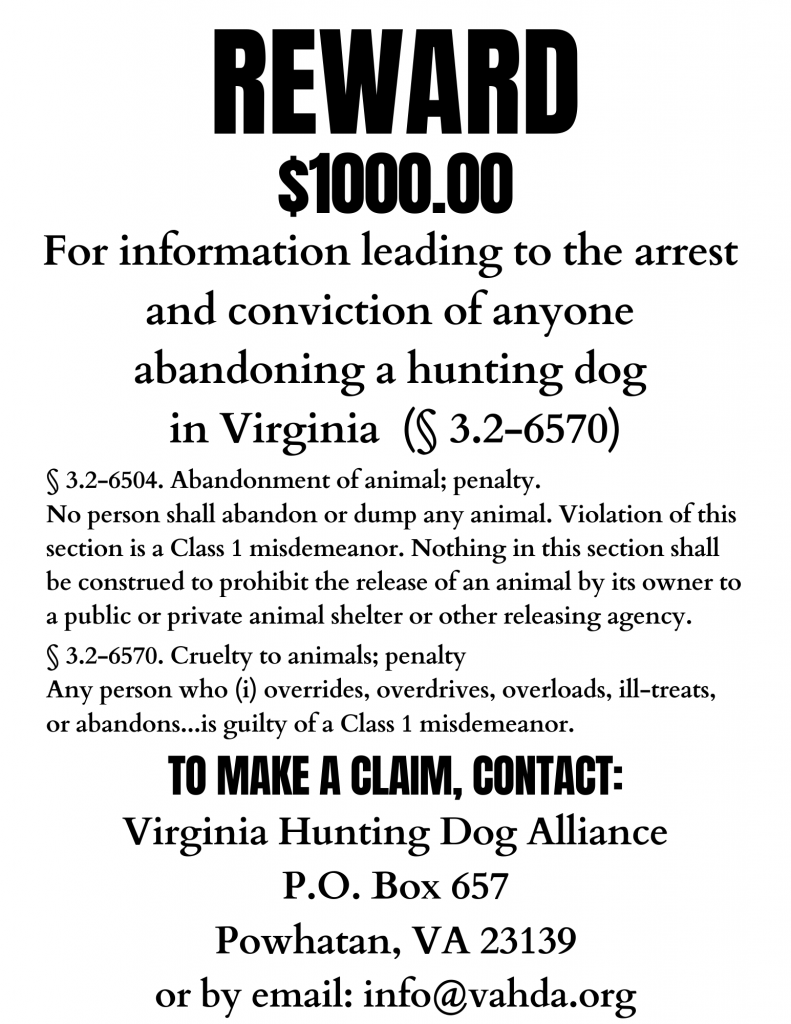 Twenty-Four Counties Pass Resolution on Heritage of Hunting with Dogs
The number of Virginia counties in support of our heritage of hunting with dogs –especially hounds –has grown to twenty-four. The "Brunswick Resolution" is a defense of the rural culture of Virginia. This Resolution has been passed by Charlotte, Brunswick, Mecklenburg, Lunenburg, Caroline, Spotsylvania, Charles City, New Kent, King and Queen, King William, Page, Isle of Wight, Northumberland, Essex, Nottoway, Prince George, Goochland, Southampton, Greensville, Cumberland, Buckingham, Sussex and Pittsylvania.
Consider asking your Board of Supervisors to pass a similar resolution today! Read Resolution