SPORTSMAN'S RALLY: FRIDAY, FEBRUARY 1, 2019
VIRGINIA STATE CAPITOL
Gather with fellow dog hunters and fox hunters and others as we celebrate our common Virginia heritage.
Final time and meeting place: TBD. Please check back for updates!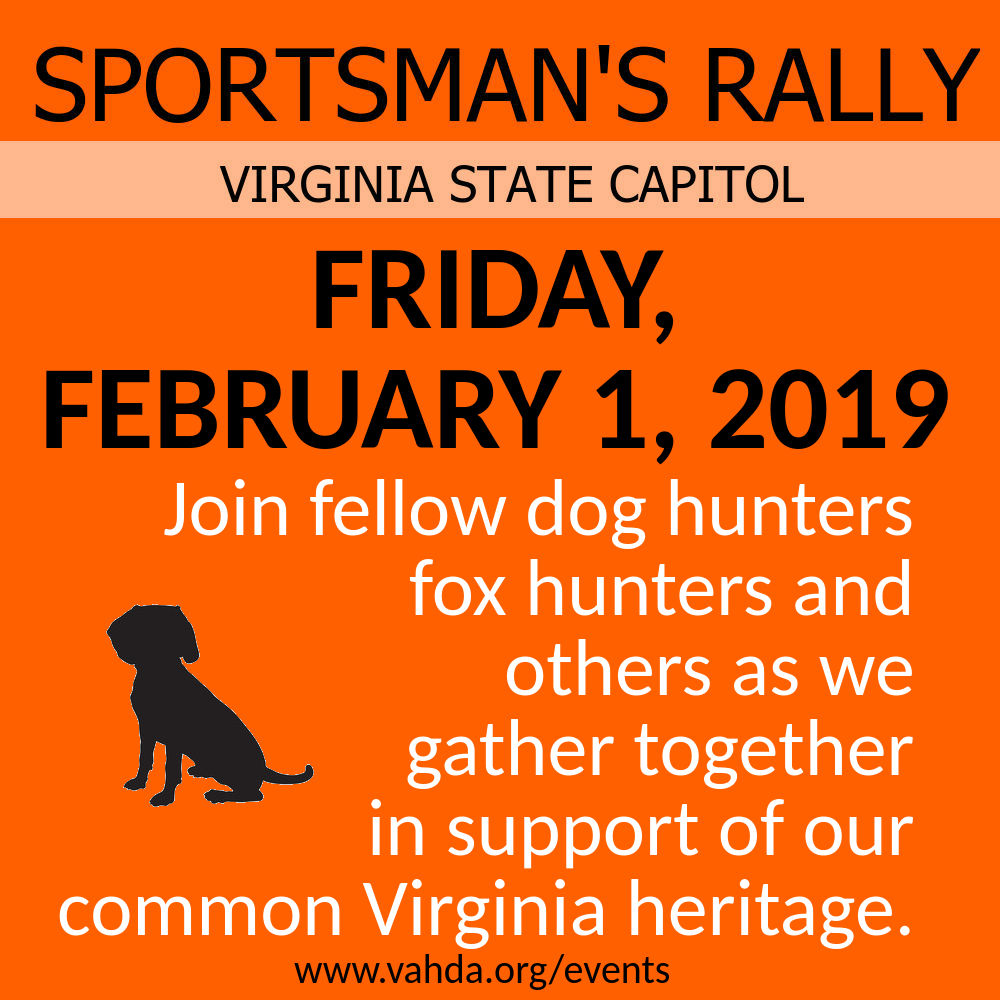 VIRGINIA STATE FOXHUNTERS ASSOCIATION
97th Annual Bench Show and Field Trial
October 3rd – October 6th , 2018

Headquarters: Poole's Fox Hound Training Preserve, Emporia, Virginia
National Affiliated
Hounds will be cast at Daybreak Derby and all age classes
Master of Hounds, Donnie Adams
VA Assistant Master of Hounds, TBD
Bench Show Judge, Allan Bishop
VA Ringmaster, TBD
Judges Invited:
David Hazzelwood, VA ~ Dean Crutchfield, VA ~ Paige Allen, VA ~ Cameron Owen, VA
Hunter Francis, VA ~ Shannon Higgins, VA ~ Chris Cox, VA ~ David Tolbert, VA
Tim Anderson, VA ~ Skeeter Holloway, VA ~ Randy Hawkins, NC ~ Jeremy Bond, VA
Jamie Pitts, VA ~ Billy Britton, VA ~ Chris Powell, NC ~ Angela Powell, NC
David Wride, NY ~ Brandon Anderson, VA ~ Pete Henley, VA ~ Mike Smith, VA
Donnie Hall, VA ~ Brock Hitt, VA ~ Sam Tate, VA ~ Kelly Meadows, NC
James Booker, VA ~ Jerry Kinker, VA ~ Kevin Larkin, VA ~ Jerry Towler, VA
Trent Mills, VA ~ DJ Doss , VA ~ Derek Doss, VA ~ Charlie Boyd, TN
Chris Wright, VA ~ Michael Babb, VA ~ Aaryn Babb, VA ~ Byron Mines, NC
Mike Casper, NC ~ Cole Hartley, NC ~ Ryan Gregory, NC ~ Cody Hawkins, NC
Steve Lawson, VA ~ Kyle Lawson, VA

Registration: 11:00 a.m. until 7 p.m. – Wednesday, October 3rd
Cook out – Time to be Announced. – Wednesday, October 3rd
Compliments of Virginia State Fox Hunters Association
BENCH SHOW – 7:30 p.m. – Wednesday, October 3rd Child's Handling Class

ENTRY FEE: $65.00 PER HOUND DERBY AND ALL AGE MEMBERSHIP – $25.00
BRING YOUR OWN FEED AND PANS

Due to laws governing Fox Preserves in Virginia, we are limited to 420 hounds for our hunt.
Between the dates of August 24th and September 14th, you must mail a check to the secretary for the number of hounds you wish to run, plus membership. This amount is NONREFUNDABLE BUT IS TRANSFERABLE.
You are responsible to ensure that your check reaches the secretary during this time frame. These checks will be deposited as they are received; should a check not clear the bank you will lose your spot. Upon receipt of your check secretary will call you at the number indicated with your check between the hours of 6PM and 9PM to discuss your numbers with you. At such time an Entry Form will be filled out and sent to you with the numbers you have reserved. This is on a first come, first serve basis.
Once we have reached the limit of paid entries, no further entries will be accepted. Should we not
have 420 hounds on the day we are registering hounds at the hunt, additional entries would be accepted up to the 420 limit.
Franchise Hunt that will be eligible for Grade 2 Leaderboard Points!
MUST BE PREPAID IN FULL IN ADVANCE, PLUS MEMBERSHIP, NONREFUNDABLE/ BUT IS TRANSFERABLE
POSTMARKED NO EARLIER THAN AUGUST 24th AND NO LATER THAN– SEPTEMBER 14th

CHECK PAYABLE TO VSFHA AND MAIL TO :
VIRGINIA STATE FOX HUNTERS ASSOCIATION
P O BOX 33
MONTPELIER, VA 23192

Best Western (434) 634-3200
Best Value Inn (434)634-4191
Quality Inn (434)348-8888
Wayne Boyd, President Sandra Chatham, Secretary
(540) 894-3763 (804) 883-6858
~~~~~~~~~~~~~~~~~~~~~~~~~~~~~~~~~~~~~~~~~~~~~~~~~~~~~~~~~~~~~~
VIRGINIA HUNTING DOG ALLIANCE
FIRST ANNUAL BANQUET
The Virginia Hunting Dog Alliance will hold its first annual banquet on October 13, 2018. It will be held at Meadow Event Park (Farm Bureau Fair Grounds) in Doswell, Virginia. This is a statewide event!
There will be raffles and auctions, good food and a lot of fun. We hope to have one or two engraved firearms with our logo to auction. Tickets should go on sale in July and will be available through county chapters. Tickets will be $70 each. There will be 500 tickets only, so don't wait to buy yours!
~~~~~~~~~~~~~~~~~~~~~~~~~~~~~~~~~~~~~~~~~~~~~~~~~~~~~~~~~~~~~~~~
VIRGINIA HERITAGE AND TRADITION GOLF TOURNAMENT
It gives me great pleasure to announce the 1st annual VIRGINIA HERITAGE and TRADITION Golf Tournament that will benefit the Virginia Hunting Dog Alliance. The tournament that will be held June 16, 2018 at the Hobbs Hole Golf Club in Tappahannock, VA.
We "challenge" fellow Chapters, hunt clubs, business, and civic organizations to get one or more golf teams together for the event. You can also make a charitable monetary donation or sponsor a tee box ($100) to support the tournament. All combinations of participation will be welcomed and all participants will be recognized.
See below for a flyer; all contact information is listed on the flyer, and you can download one for distribution here. Please email or send your information/donations to the mailing address. We hope to hear from you in the coming days and we look forward to working alongside each and every person that helps our great organization continue the fight for our rights!
God Bless and thanks!
Special thanks to the Westmoreland VAHDA Chapter for all of their hard work!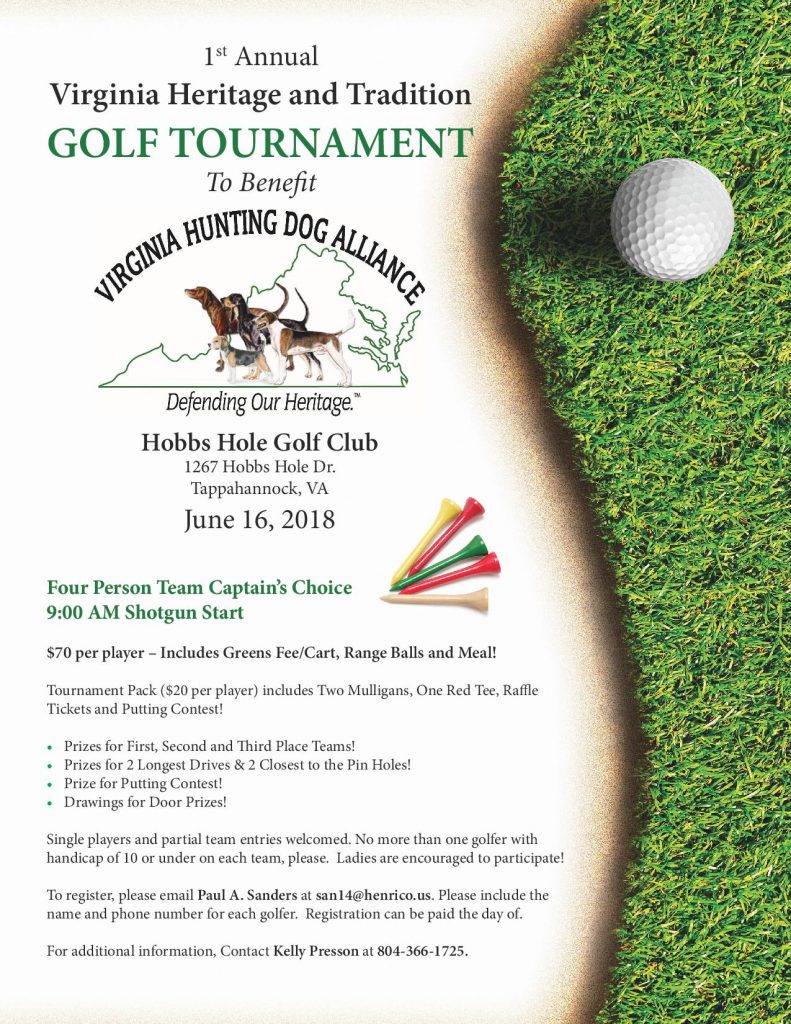 ~~~~~~~~~~~~~~~~~~~~~~~~~~~~~~~~~~~~~~~~~~~~~~~
RELAY FOR LIFE:
The Big Island Hunt And Fishing Club in Lynchburg, VA is participating in Relay for Life again this year. Cancer has touched all of us in some way, and we want to stop this disease in its tracks. They'll spend the next few months fundraising for the American Cancer Society. Then, on the day of the event, they'll honor the lives lost to cancer, celebrate survivors, and support the caregivers who so selflessly help others.
Please consider donating — it's a great way for hunters to give back to the community. They're hunting for a cure! You can donate here.