VIRGINIA HERITAGE AND TRADITION GOLF TOURNAMENT
It gives me great pleasure to announce the 1st annual VIRGINIA HERITAGE and TRADITION Golf Tournament that will benefit the Virginia Hunting Dog Alliance. The tournament that will be held June 16, 2018 at the Hobbs Hole Golf Club in Tappahannock, VA.
We "challenge" fellow Chapters, hunt clubs, business, and civic organizations to get one or more golf teams together for the event. You can also make a charitable monetary donation or sponsor a tee box ($100) to support the tournament. All combinations of participation will be welcomed and all participants will be recognized.
See below for a flyer; all contact information is listed on the flyer, and you can download one for distribution here.  Please email or send your information/donations to the mailing address. We hope to hear from you in the coming days and we look forward to working alongside each and every person that helps our great organization continue the fight for our rights!
God Bless and thanks!
Special thanks to the Westmoreland VAHDA Chapter for all of their hard work!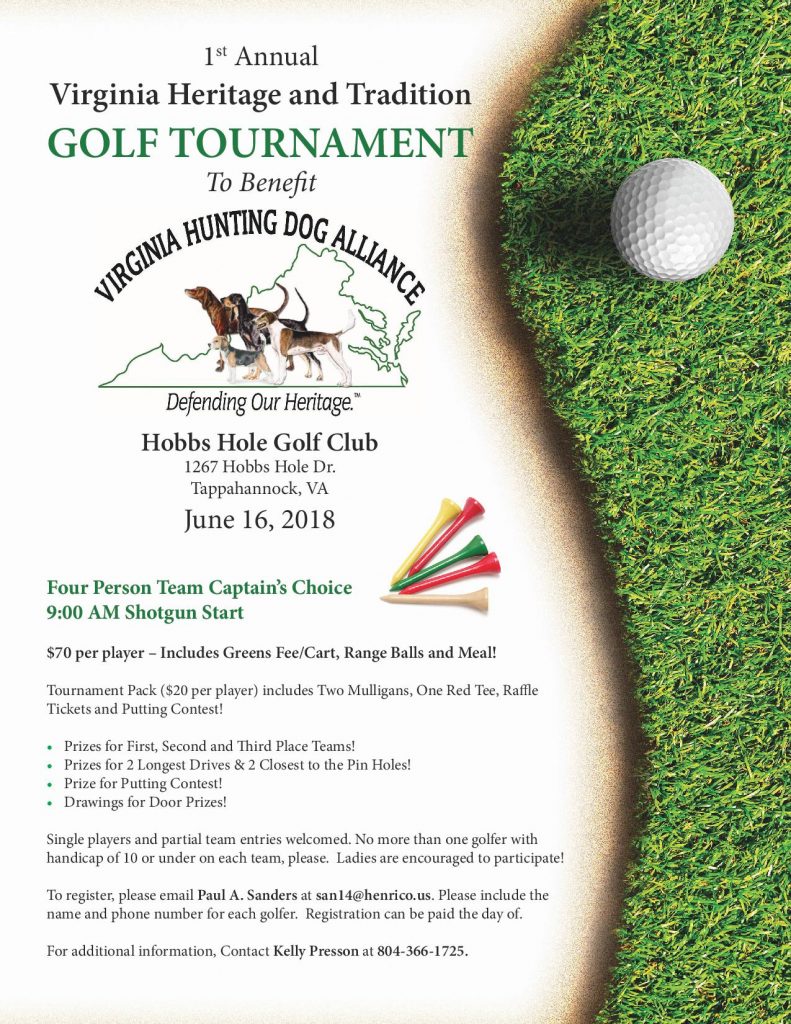 RELAY FOR LIFE:
The Big Island Hunt And Fishing Club in Lynchburg, VA is participating in Relay for Life again this year. Cancer has touched all of us in some way, and we want to stop this disease in its tracks. They'll spend the next few months fundraising for the American Cancer Society. Then, on the day of the event, they'll honor the lives lost to cancer, celebrate survivors, and support the caregivers who so selflessly help others.
Please consider donating — it's a great way for hunters to give back to the community. They're hunting for a cure! You can donate here.