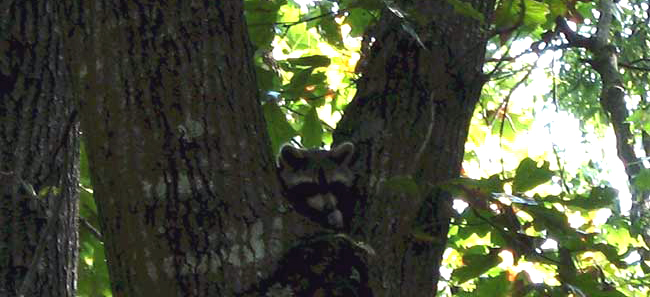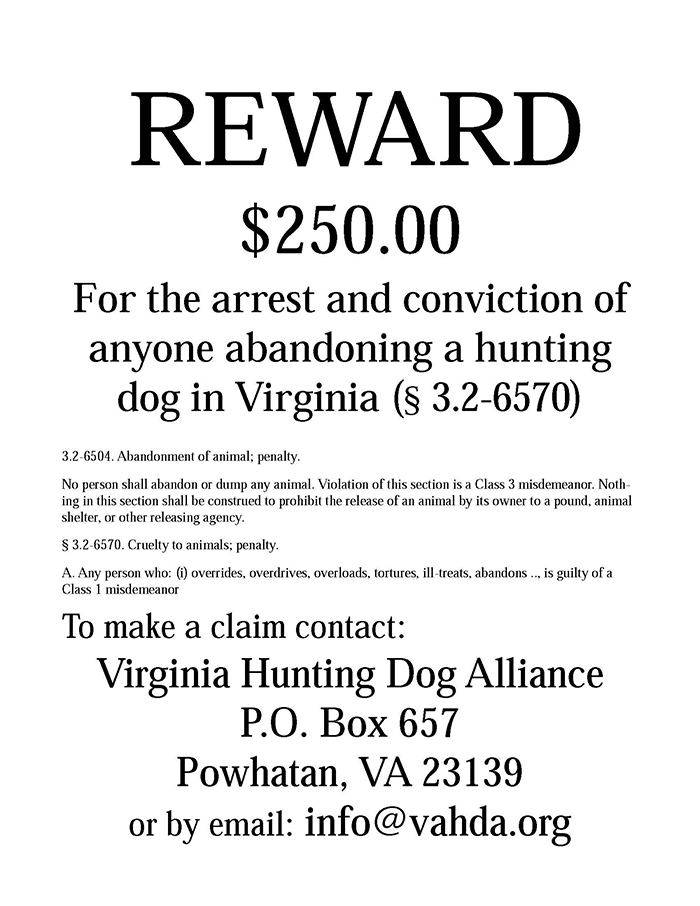 ---
KNOW THE LAW
It is a class one misdemeanor in Virginia to remove a tracking collar (§ 18.2-97.1). The penalty may be up to a one thousand dollar fine and one year in prison. Obviously, there are other charges that may be filed related to the destruction or attempt to dispose of the collar. The theft of the dog (§18.2-97) or killing a dog (§ 18.2-144) are both class five felonies with prison time, fines and the loss of citizenship (loss of the right to keep and bear arms) as a consequence. It is unlawful for any person to deliver or release any animal not owned by that person to a pound, animal shelter or humane society or to pretend to be the agent of the owner (§ 18.2-144.2).
---
SPORTSMAN INCIDENT REPORT
Virginia Hunting Dog Alliance
Incident Report Repository
DOGS – STOLEN - SHOT - DETAINED - TRACKING COLLAR REMOVED - PICKED UP & HAULED OFF - INTERFERNCE with LEGAL HUNTING - FALSE REPORT
---
Deer & Public Safety
Would you rather see a few hunters on the road during the day, or deer through the windshield at night? Hunting Saves Lives and Huge Property Damage $$ Costs

Deer & Public Safety 8 1/2 x14 (pdf)
(need to adjust printing options: legal size and landscape)
---
DGIF Hound Hunting Complaints
The Virginia Hunting Dog Alliance (VHDA) has repeatedly asked officials of the Virginia Department of Game and Inland Fisheries (DGIF) why they felt it necessary to "study" our tradition of hunting with hounds. The initial responses to this question were that they had been receiving an increased number of complaints concerning the use of hounds in Virginia. DGIF at one point stated on their web site that they had had 906 complaints, but were vague about whether it was during one year or one guns season or just how long. We now know that 500 of those complaints were "road hunting" complaints, many were not from counties where deer or bear are hunted with hounds!
Read entire letter.

See for yourself 27 months of complaints county by county!

Dog Type Hunting Violation Complaints by County
September 9, 2005 to June 30, 2006
From DGIF CAD System December 31, 2007
---
Twenty-Four Counties Pass Resolution - Heritage of Hunting with Dogs
The number of Virginia Counties to support our Heritage of Hunting with Dogs, especially hounds, has grown to twenty-four. The "Brunswick Resolution" is a defense of the rural culture of Virginia. This Resolution has been passed by Charlotte, Brunswick, Mecklenburg, Lunenburg, Caroline, Spotsylvania, Charles City, New Kent, King and Queen, King William, Page, Isle of Wight, Northumberland, Essex, Nottoway, Prince George, Goochland, Southampton, Greensville, Cumberland, Buckingham, Sussex and Pittsylvania. Ask your Board of Supervisors to help now!